Textbook on Social Psychology
This textbook comes from the new Italian generation's best scholars and teachers in social psychology. It provides an updated and innovative overview of the discipline and its theoretical and empirical foundations. Over the last two decades, this discipline has undergone profound changes and developments in terms of new theoretical perspectives (for example, the need to belong), tools (e.g., the development of implicit measures or the introduction of physiological measures), and areas (for example, the digital Era) or topics (e.g., environmental or political psychology). Moreover, the discipline was the first and the most involved (compared to other social sciences) to be hit by the crisis of reproducibility. This textbook's ambition is to offer those who approach social psychology an updated and critically reviewed vision, both in terms of contents and how they are addressed.
Book Website:
https://www.mulino.it/isbn/9788815287946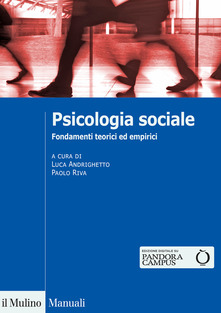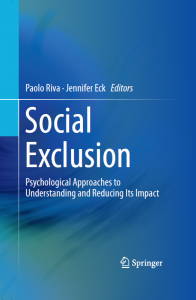 Social Exclusion Book
Dr. Riva is the Editor (with Jennifer Eck as a co-Editor) of a volume titled "Social Exclusion: Psychological Approaches to Understanding and Reducing Its Impact" that is published by Springer. The purpose of this volume is threefold. First, it lays the groundwork for the understanding of social exclusion research; reviewing the different instances of social exclusion in everyday life and methods to experimentally investigate them. Second, this volume brings together different psychological approaches to the topic of social exclusion. Leading scholars from around the world contribute perspectives from social psychology, social neuroscience, developmental psychology, educational psychology, work, and organizational psychology, clinical psychology, and social gerontology to provide a comprehensive overview of social exclusion research in different psychological subdisciplines. Taken together, these chapters are conducive to the important development of new and more integrative research models on social exclusion. Finally, this volume discusses psychological strategies such as emotion regulation, psychological resources, and brain mechanisms that can reduce or buffer against the negative consequences of social exclusion. From school shootings to domestic violence, from cognitive impairment to suicide attempts, the negative impact of social exclusion has been widely documented. Thus, from an applied perspective, knowing potential ways to mitigate the negative effects of social exclusion can have a significant positive influence on people's—and society's—well-being. Overall, this book provides the reader with the knowledge to understand the impact of social exclusion and with tools to address it across many different contexts.
Book Website: 
https://www.springer.com/us/book/9783319330310