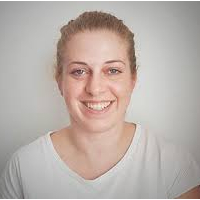 Alessandra Vergallito
Department of Psychology, University of Milano-Bicocca
Email: a.vergallito@unimib.it
Alessandra Vergallito is a
post-doc fellow in Psychobiology and Physiological Psychology at the University of Milano-Bicocca. She got her Ph.D. in Psychology, Linguistics, and Cognitive Neuroscience at the University of Milano-Bicocca in 2018.
In her dissertation, she provided examples and discussion concerning the feasibility of using corticospinal excitability induced by TMS to explore action understanding and higher cognitive functions. Her main research interest concerns the investigation of whether and how non-invasive brain stimulation (NIBS) can help boost behavioral, therapeutic, and rehabilitation protocols in healthy and psychiatric populations. She developed several research lines concerning how NIBS modulates emotion regulation, cognitive performance, brain activity, and connectivity.


In 2019, she was awarded a NARSAD Young Investigator Grant from the Brain & Behavior Foundation, titled "Boosting Psychotherapy effects using Transcranial Direct Current Stimulation", which aims at combining metacognitive therapy with transcranial direct current stimulation in major depression treatment.


Alessandra's academic training and research experiences provided her an excellent background in the NIBS field. She integrated this expertise with advanced statistical courses and four-year training in cognitive-behavioral psychotherapy, which is still in progress.